Did you know cervical cancer is the only preventable cancer because of the HPV Vaccine
In 3 doses, you will have peace of mind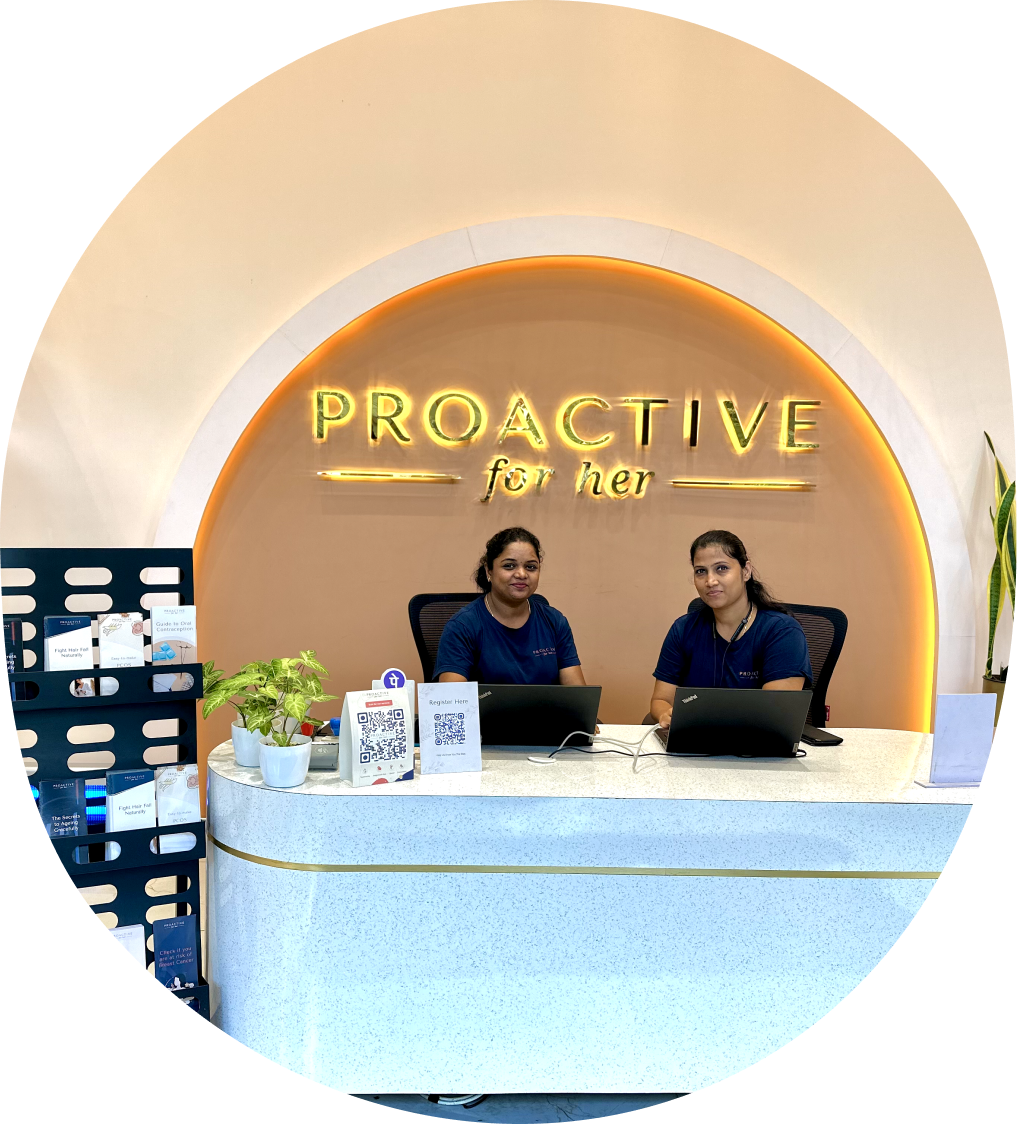 Why choose us
Hear from people like yourself.
FAQs
HPV stands for human papillomavirus. It is a very common virus and there are more than 100 types of HPV that affect different parts of the body. Exposure to some HPV strains can lead to cervical cancer or genital warts.
HPV vaccination provides safe, effective, and lasting protection against HPV infections. It is 95% effective in preventing cervical cancer. Getting 3 doses of HPV vaccination (for ages above 15) and 2 doses of HPV ( for ages 9-15) using condoms, and getting tested regularly are the best ways to avoid problems that can come from HPV.
Cervical cancer is a type of cancer that occurs in the cells of the cervix, the lower part of the uterus that connects to the vagina. It is the 2nd most common cancer among Indian women and also the only cancer that can be prevented with a vaccine, that is the HPV vaccine. Cervical cancer can often be prevented by having regular screenings with Pap tests and human papillomavirus (HPV) tests to find any precancers and treat them.
In India, between 75-80% of cervical cancer cases are due to HPV 16 and 18, against which all HPV vaccines provide protection. The cervical cancer vaccine protects against the strains of HPV most likely to cause cancer. But it does not protect against all HPV strains hence you may have heard that it is not 100% effective. Also, given that there are a variety of strains of HPV that we are exposed to in our lifetime, getting vaccinated as early as possible and ideally before exposure is better.
Human papillomavirus infection affects different parts of the body and also causes cervical cancer. Most people with HPV do not develop symptoms. Some people find out they have HPV when they get warts. Women may find out they have HPV when they do an HPV DNA test or get an abnormal Pap smear test result.
HPV treatment has to cover a wide range of symptoms and the best one can do is to talk to their gynaecologist/Dermatologist and get it resolved and also consider getting vaccinated despite getting infected.
HPV can infect areas that are not covered by a condom because HPV is not just restricted to genitals, you can also get exposed to it through other means of sexual activity or skin contact. Using condoms is one way of protecting yourself from HPV infection.
HPV vaccination can help prevent cervical cancer. Anyone between the age group of 9-45 can get their vaccination. The preferred age is 9-14, where you just need 2 doses of the vaccine for full protection. If you haven't been vaccinated as a child, its never too late, you can get the vaccine as an adult too. You can also get the vaccine if you are already sexually active.
HPV vaccination of people above the age of 45 provides less benefit, for several reasons, including that more people in this age range have already been exposed to HPV. It's best advised to get your HPV vaccination before 45 to prevent cervical cancer and other HPV infections. Instead, ages above 45 can consider getting 3 yearly PAP smears done for cervical cancer screening.
In a three-dose schedule of the HPV vaccine, the minimum intervals are 4 weeks between the first and second dose, 12 weeks between the second and third dose, and 5 months between the first and third dose. There is no maximum interval, so don't worry if there is a longer gap between your doses. If you received 1 dose as a child, you can take the remaining 2 doses as an adult.
Book your vaccination well in advance or check with our care provider for a suitable slot for the vaccination. Talk to our gynaecologist if you have any queries or if you need to resolve your concerns.
On the day of getting your vaccination:
Avoid alcohol consumption
Drink plenty of fluids
Eat nutritious meals
Wear comfortable loose clothing (Shorter sleeves preferably)
Have a 14-day gap between taking any other vaccine and getting your HPV vaccine.
Yes, absolutely! Even though it's recommended to get vaccinated before getting sexually active, you can always get your vaccination between the age of 9-45 to prevent any future risks of HPV infections.
Pregnant women
People who are moderately or severely ill
People having severe allergies, including an allergy to yeast or latex
People who had life-threatening allergic reactions to any component of the vaccine or a previous dose of the vaccine
HPV is a type of virus that is highly contagious and can spread via sexual contact with your partner/s.
Yes, getting your vaccination before getting sexually active is the best time to get it since there is no sexual transmission of the virus in the body and once you are vaccinated, your body is ready to fight against the infection in the future.
HPV vaccination can be one of the most important tools to protect you against cervical cancer. Vaccination reduces your chances of developing Cervical cancer.
Yes, get your vaccination before you turn 45. The earlier you get vaccinated, the more effective it is. Also, do not forget to get the vaccination for your children when they turn 9 years of age.
Yes, HPV is easily spread from sexual skin-to-skin contact with someone who has it.
Yes, both you and your partner can benefit from getting the HPV vaccine.
Ready to get your HPV vaccine?
HPV home vaccination
GARDASIL 4
HPV Vaccine – single dose
₹4500
₹4200
HPV Vaccine – three doses
₹13500
₹12000